Why sponsoring a cycling team is so rewarding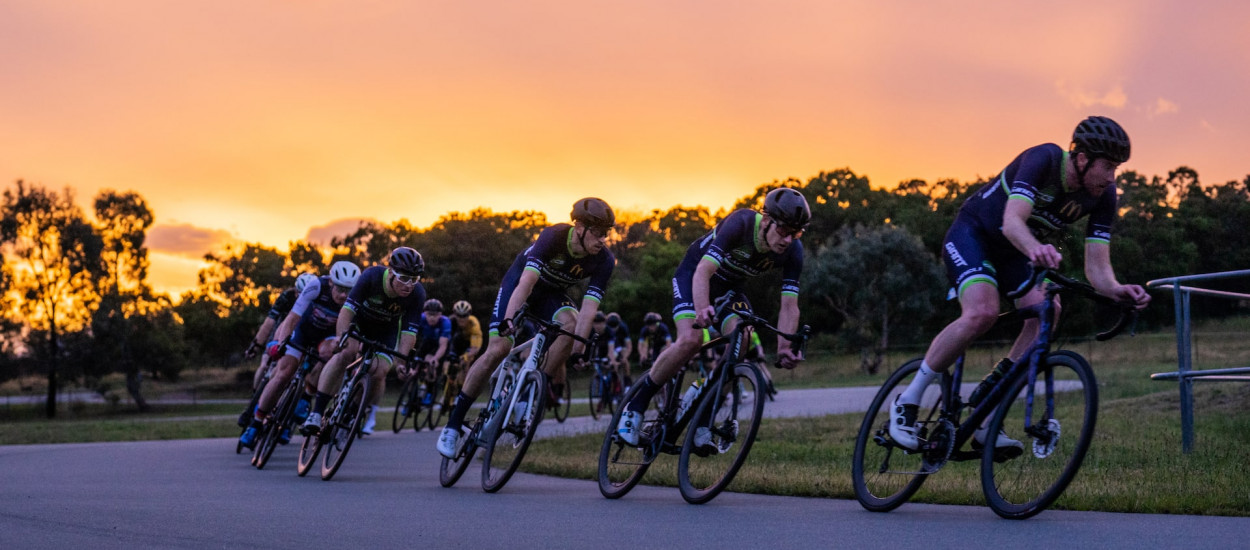 The event
The Carts Christmas Criterium is the biggest road cycling race on the Canberra calendar. It's named after the late Mark Carter, a huge lover of the aggressive attacking style of racing you see at a criterium.
Almost a rite of passage for a junior rider as they take their first steps into racing, this mid-week night of racing has everything from family barbecues, Christmas cakes, Santa, dogs, thousands of dollars in prize money across all grades, to racing for everyone and a huge main event to cap off the evening.
As you look around the pavilion you see little and big kids alike all kitted up, some in a lucky cycling jersey signed by pros at the Tour Down Under, juniors in their first hand-me-down cycling jersey that's way too big for them and riders from National Road Series (NRS) teams, including local NRS team, CCS Cycling, sporting all the latest in aerodynamic and cooling technology you can fit in a jersey. That's one of the great things about the night, the diverse level of riders and mix of custom cycling clothing you see on and off the track. Such a great night would not work without having strong partnerships with all the sponsors.
The team
CCS Cycling is made up of riders from Canberra and the surrounding regions, and there are present-day and future elite riders lining up at community level events such as the Carts Christmas Criterium.
At one end of the spectrum we have CCS Cycling riders like Marc Williams who have done it all on the road. While by no means an old bull, Marc has likely seen Tineli's custom jerseys and custom shorts evolve more than most, having worn and helped develop them over the years with the powerhouse Budget Forklifts team.
At the other end of the experience spectrum we have Oscar Chamberlain. He was just seven when he raced his first criterium, and now at 17 he's on the CCS Cycling team about to start his first NRS race at the 2022 Festival of Cycling.
Gone are the days of Oscar's first little white jersey (likely no more cycling specific than a polo tee), now he's in the Pro Aero Jersey, a slick, fast, high-tech jersey with all the features of the team's training jersey including a sneaky zipper pocket for race radio, room to stash emergency Pure Nutrition Gel or even house keys.
CCS Cycling is Canberra's only NRS based team, and it is completely made up of riders and staff living locally, creating a vast network of communication and opportunities for those supporting it. The unique approach of the CCS Cycling team management is to also support local business and then create a mobile, fit and healthy branding and talking point opportunity that a large group of cyclists can offer.
The sponsors
After several years as the naming rights sponsor CCS Group has seen the value of its support in this endeavour, as have the other founding sponsors Blackshaw Real Estate, Canberra Airport and McDonald's Canberra, who have all signed on for 2022 and beyond. This is not limited to Canberra-based business, with cycling brands such as Tineli, Italian helmet and sunglass brands Kask and Koo seeing the rewards of their support too.
Mark Eedle, Marketing Manager of Trek Bikes Australia & New Zealand says: "At Trek we want to change the world by getting more people on bikes. Extending the reach of our brand through authentic use of our products is why we have partnered with the CCS Cycling team. They are dedicated to inspiring the cycling community and getting more people on bikes through sharing their love for the sport".
Belinda Chamberlain, Principal of CCS sponsor Blackshaw Real Estate says that advertising is important for a business. However, advertising is also a one-time relationship and very short-term in nature. Through sponsorship, Blackshaw can develop partnerships that generate returns on both ends, today and in the future.
About the author
Ben Morrison is the Marketing and Technical Manager for CCS Cycling. Growing up overseas and finally settling in Canberra, Ben has pursued cycling ever since. With national and state titles for downhill mountain biking and state titles for criterium racing, it's clear Ben likes the adrenaline and taking more risks than others when on two wheels.