What to know about Enduro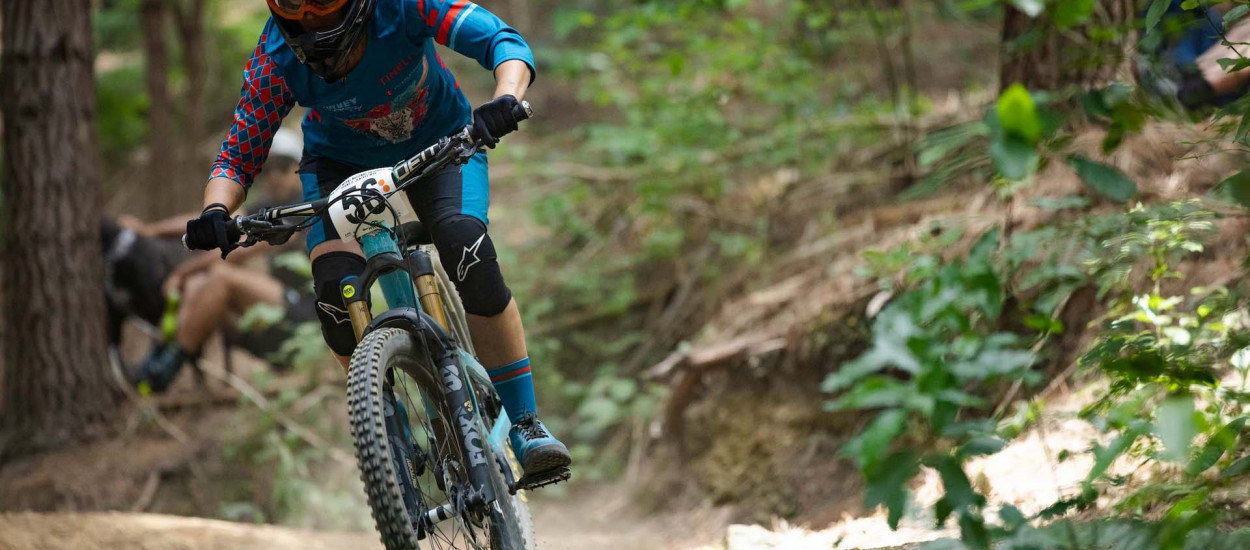 Enduro mountain biking
In short, if the disciplines of cross country and downhill had a love-child it would be enduro. To us, enduro has the very best parts of cross country and downhill poured into one heck of a cocktail made up of endurance, action, technical skill and companionship.
Often, cross country is a loop repeated multiple times and downhill is a race from A to B, so the typical enduro race is a big loop with several 'special stages' (often referred to as just 'stages') where you race from A to B.
The sections where you move from the end of a 'special stage' to the start of the next are called 'liaisons' and can certainly have time pressures involved, especially in high level international racing, but often this is where the social side of this discipline comes into play. If you keep moving, you can hold a relatively comfortable pace back up the hill which allows for an opportunity to catch up with those around you. It's the feeling of companionship throughout the race that's so very special to enduro – you race individually but you partake and complete the course together.
Usually there's only one practice run down each race stage, leaving a much bigger portion of your success dependent on your bike handling skills at speed, rather than your ability to memorize lines. You might be out racing for six hours, across 50 kilometers and 1,200 to 1,500 meters of elevation but your results are distilled into the amount of time you spent in between the race tape on the stages – the potential for action is high and so is the demand on the clothing you wear and the gear you carry, as you are self-sufficient during the race. When we race, we wear the Enduro Bib Liners for comfort, gear carrying capacity as well as the compulsory back brace. Shorts of choice are the Trail Shorts, every time.
The Enduro World Series (EWS) is enduro's premier international race series. The EWS typically starts in June and finishes in September/October, covers several nations and has eight to nine individual races. You can watch highlights videos on YouTube to get to know what the races are like and familiarise yourself with the quirky characters of the series and the usual podium suspects of the scene, such as Richie Rude (USA), Martin Maes (Belgium), Adrien Dailly (France) and recently converted DH racer Jack Moir (AUS) in the men's field; the French trio Isabeau Courdurier, Melanie Pugin and Morgane Charre as well as young Harriet Harnden (UK) on the women's side.
Jess & Loui's journey
Long story short: Girl travels from Sweden to New Zealand (NZ) to study all things adventure tourism, girl learns how to mountain bike, girl meets boy, boy is a born and bred Kiwi (New Zealander) and was quite the hotshot BMXer as a kid, boy gets reintroduced to mountain biking and the couple realize the world is one big mountain-bike-track-covered-oyster in need of exploring.
Racing was not only a desire to test ourselves against the very best on the world stage but also an excuse to ride mountain bikes in as many continents and nations as possible. In the two seasons that we followed the Enduro World Series as privateers, racing bikes down the dust-covered moonscapes at 3,600m altitude in Chile, down the narrow streets and steep steps of Manizales in front of 20,000 screaming Colombian fans and under the watchful presence of Mt Blanc in La Thuile were only the very tip of the most amazing experience-iceberg.
Professional enduro racers are likely to be on a team with a manager to take care of travel arrangements. There may be a coach, a mechanic, someone that cooks for you but really, what defines a professional in enduro racing is that there is a team of people assisting you so that you can focus on doing your job well, which is riding your bike down the hill very fast.
As a privateer you still want to ride your bike down the hill very fast because you are competing against professionals as well as other privateers. But to work full-time, save up enough money to travel the world for three to four months, and also keep up with the level of training needed to compete on the world stage is a monumental task – even before setting off on your journey. Tineli has been an invaluable asset to us as a privateer couple by ensuring we had all the necessary bike clothing to cover our two six-month long race seasons. The 3/4 Trail Jerseys kept the sun off on some scalding hot days whilst the Rainman Jacket took care of the rainy days.
In the current environment, international travel comes with an extra set of challenges and so does international racing. For us, our travel plans were put on hold and we've placed a much greater focus on the national racing scene and getting involved in the local MTB community. Nelson, NZ is a small city of approximately 55,000 people that punches well and truly above its weight when it comes to the mountain biking available.
In Nelson there are at least four different trail areas, catering to varying skill levels and interests. Within one hour's drive of Nelson you have the picture-perfect Kaiteriteri MTB park, only a couple of bike-lengths away from a beautiful beach, and the Wairoa Gorge MTB park, gifted to the NZ Crown by its former owner Ken Dart, and made famous by the annual Dodzy Memorial Enduro. There's also the newer up-and-coming Cable Bay Adventure Park where the trails have been lovingly crafted by a passionate group of volunteers.
With the number of trails in Nelson, and the 4,000-member strong Nelson Mountain Bike Club, it's no surprise there is ample opportunity to immerse yourself in the riding community. For us this means everything from trail building, MTB coaching, social rides and race organizing – and next up on the calendar is the 3rd annual Cable Bay Enduro on the 5-6 March 2022.
Cable Bay Enduro 2022
From the beginning the Cable Bay Enduro has wanted to showcase the amazing playground we have access to at Cable Bay Adventure Park in Nelson (New Zealand) and also instil the love for mountain biking and all the good things that we associate with riding bikes, including good company, amazing views, great food and coffee and a cold beverage or two to celebrate an outstanding day in the hills.
The Cable Bay Enduro is a high-level multi-stage enduro race and has seen some top international racers compete, including Mark Scott, Brady Stone, Joe Nation, Daniel Self, Raewyn Morrison and Katy Winton. Most importantly, the overall event vibe is chilled out, fun and inclusive, where someone trying enduro racing for the first time can mix and mingle with seasoned racers and have a fantastic day.
2022 is promising to be bigger and better than previous years, attempting to fill the gap made when the pandemic put a hold on international racing. Linking up with two other South Island enduro races, the Emerson's Three Peaks Enduro in Dunedin and the Mammoth Enduro in Nelson, the aim is to create a series worthy of the competitiveness contained within the NZ borders.
Tineli has been an avid supporter of the Cable Bay Enduro from the beginning, providing products for spot prizes as well as event promotion and race village essentials. As organizers we are really pleased to have Tineli on board, supporting the community in such big ways.
About the authors
Jess and Loui Harvey spent six months in 2017 and 2018 travelling Australasia, Europe and South America to race the Enduro World Series. They aspire to take on the series again in the next couple of years but for now they are in Nelson, New Zealand where they live and work, Loui as a primary school teacher and Jess currently as a Sport, Recreation and Exercise student.
Jess, who moved to New Zealand from Sweden in 2010, also teaches spin classes at a local gym, delivers mountain bike skills coaching with a local bike shop and, along with Loui, organises the annual 'Super D series', a weekly, low-key race series that caters for everyone: young and old, beginner to professional; as well as organising and running the annual Cable Bay Enduro.
Loui also spends a fair bit of his time leading the volunteer trail building efforts at Cable Bay Adventure Park, which has quickly become a must-visit destination for anyone wanting to ride bikes in Nelson.
When not on their bikes they prefer to be road tripping around New Zealand for an excuse to dust off other bits of equipment, such as for rock climbing, surfing, trail running, freediving and other outdoor antics.
Visit Jessica on Instagram and Facebook.